NOVA PULSE is an 18+ for-profit fanzine that focuses on the aesthetic of the popular dystopian futuristic theme "CYBERPUNK".As for now, the zine will be produced in a Digital Format.Our fanzine will accept all content, SFW, NSFW and Dead Dove. There will be no content restrictions!
Meet our awesome team of over-motivated mods, ready to bring this zine to life and already working hard on the project!
---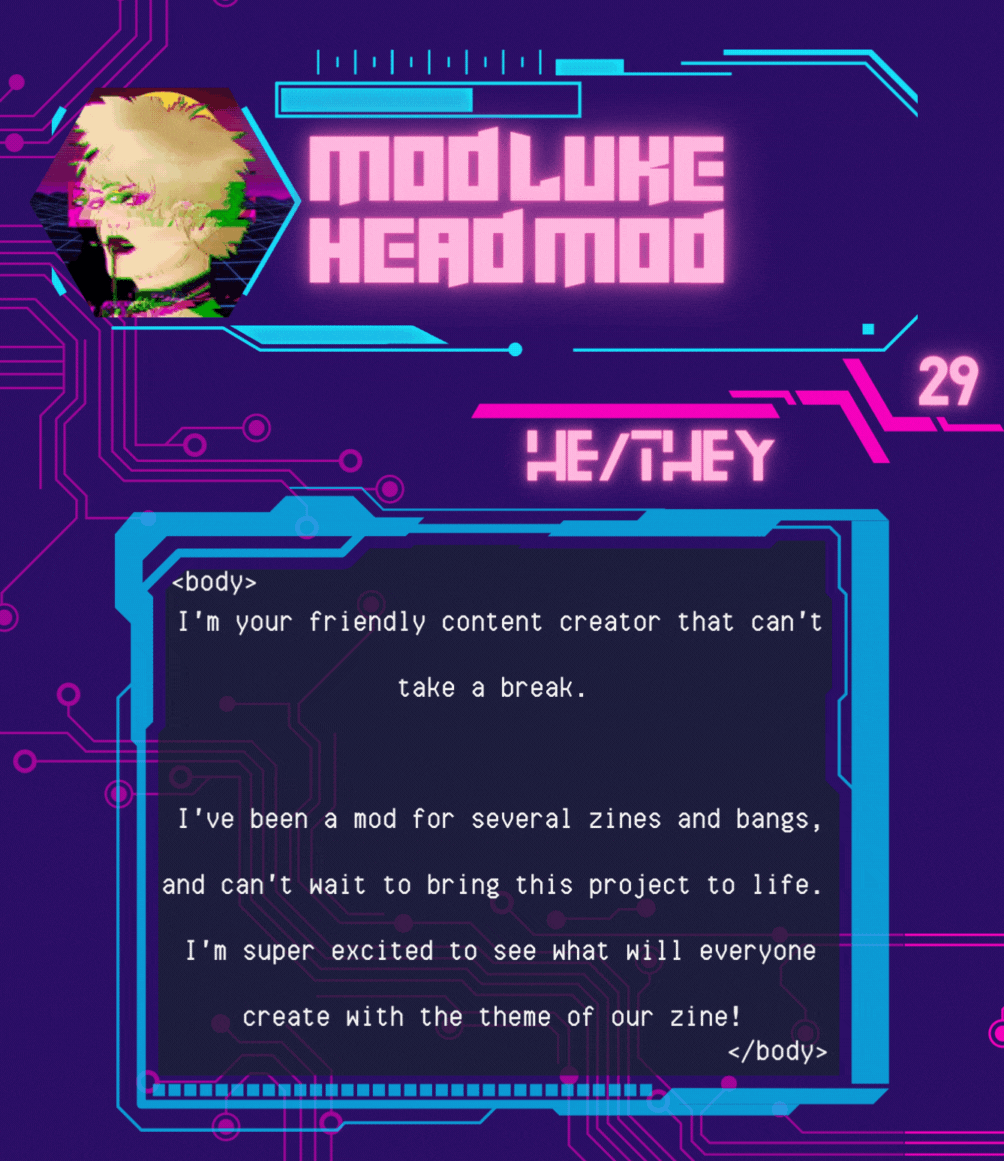 ---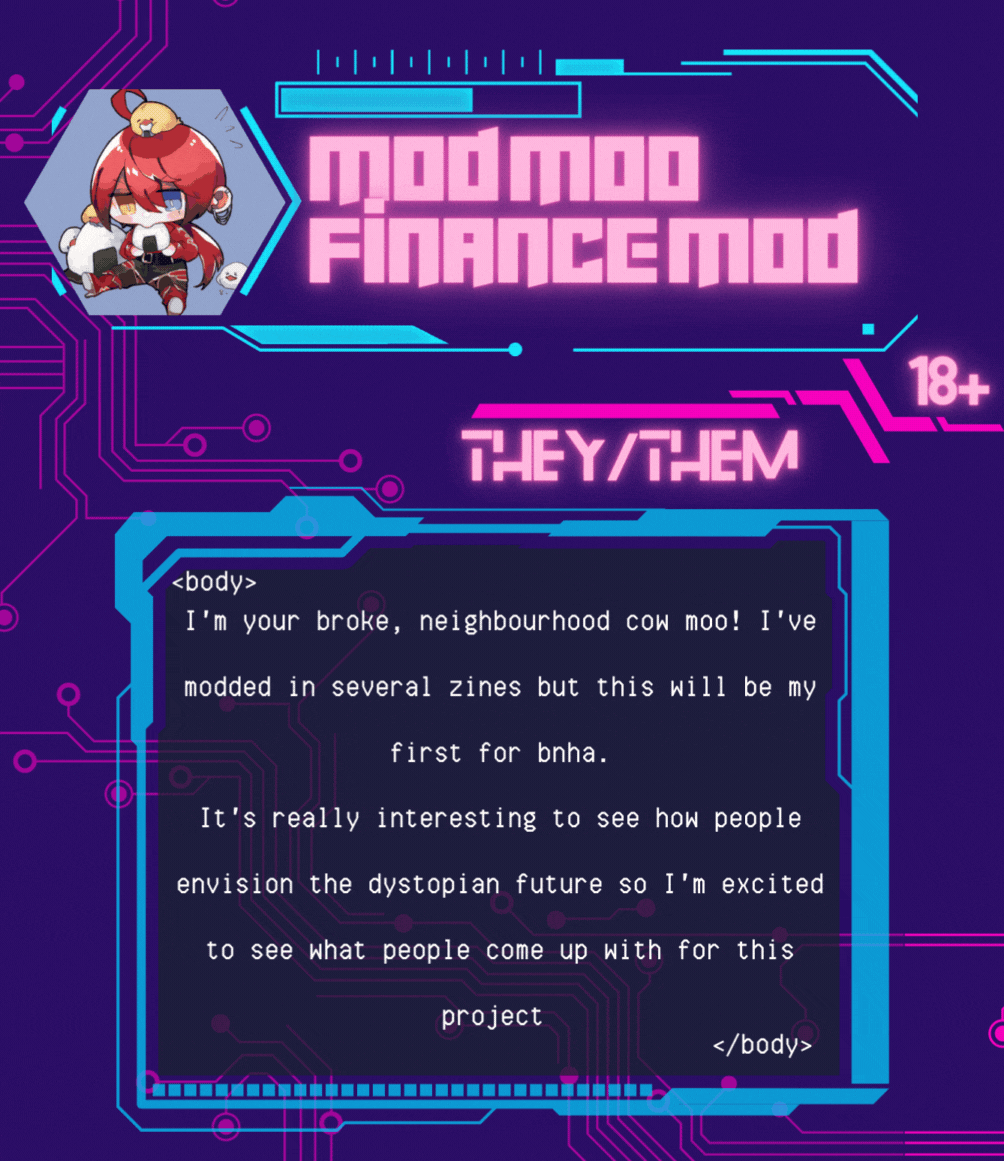 ---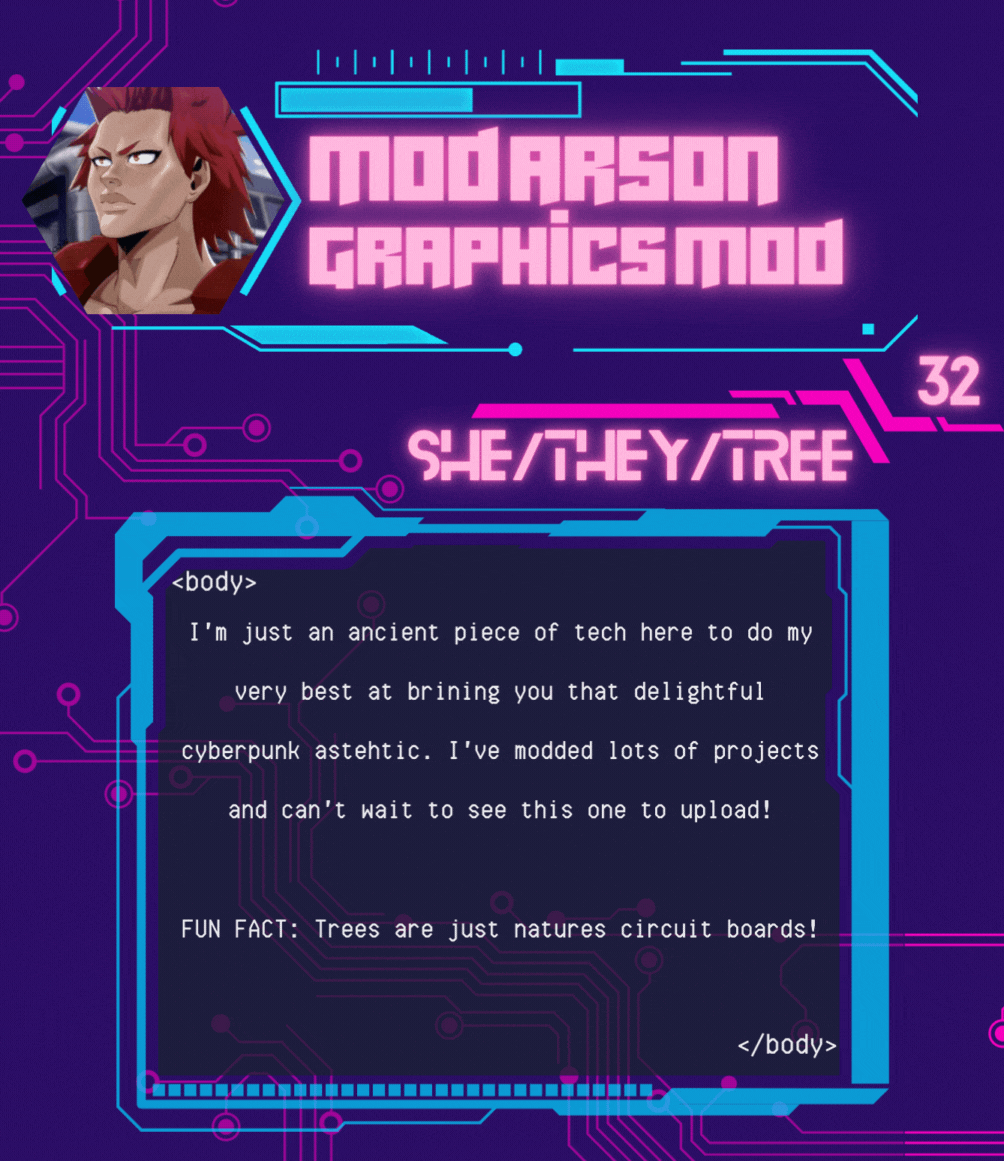 ---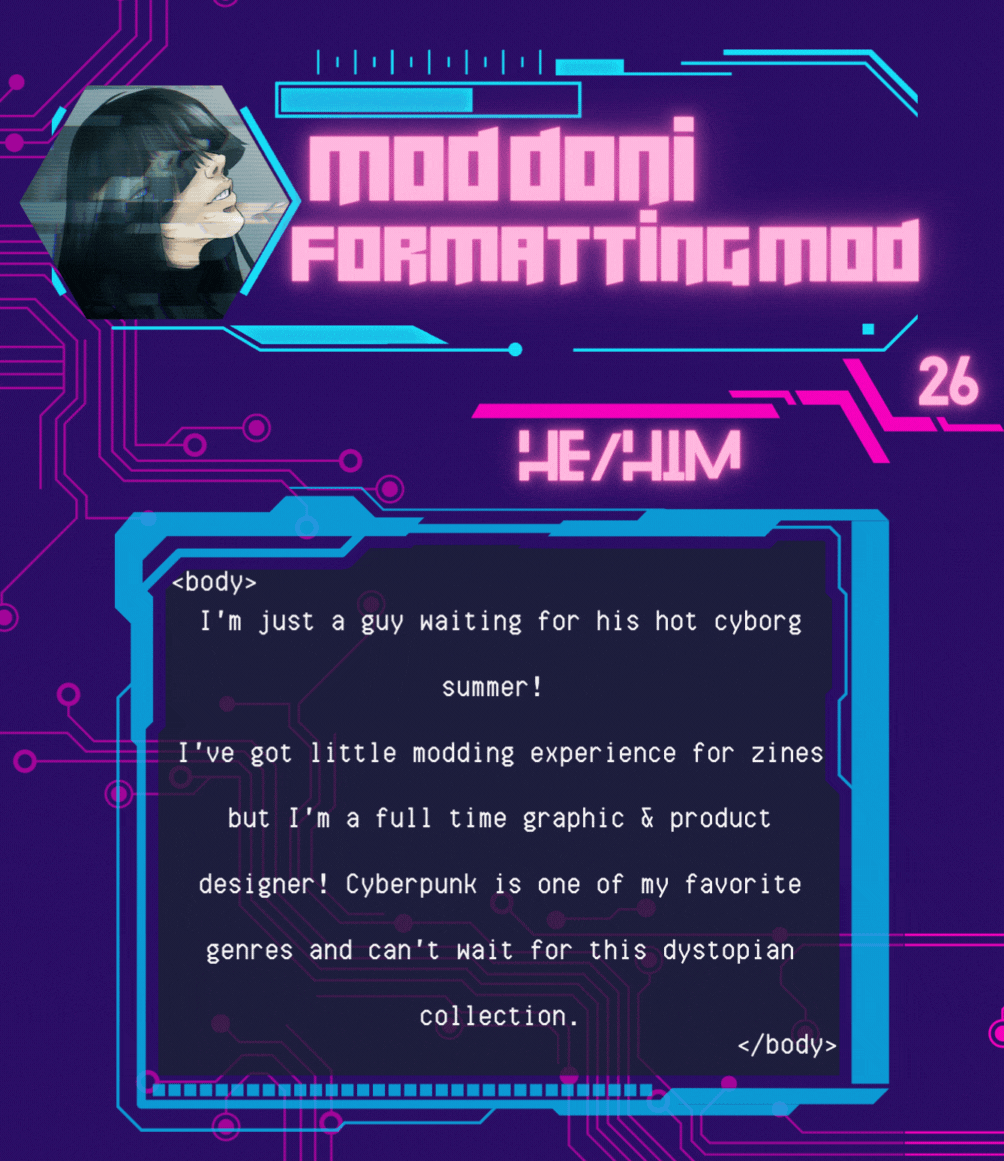 ---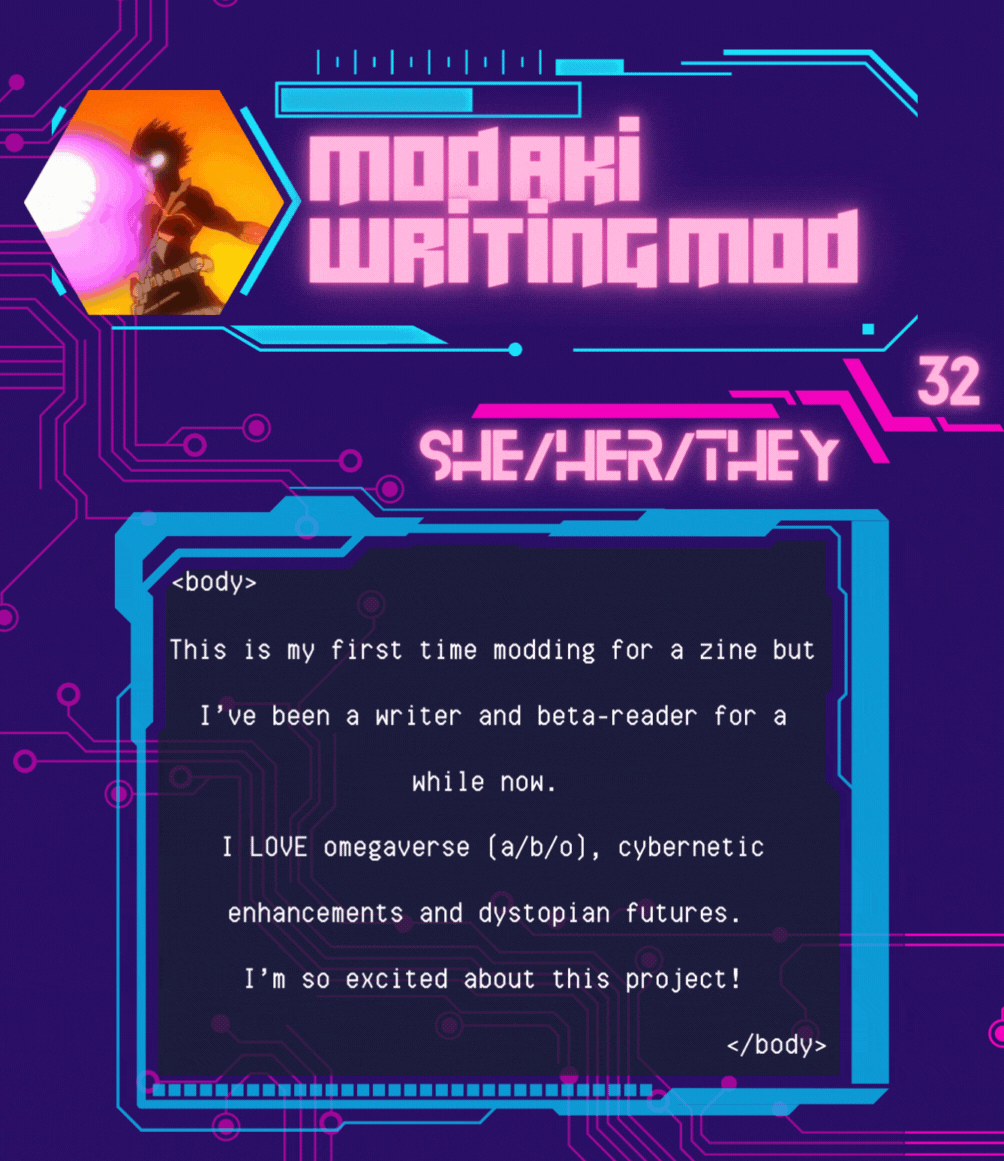 ---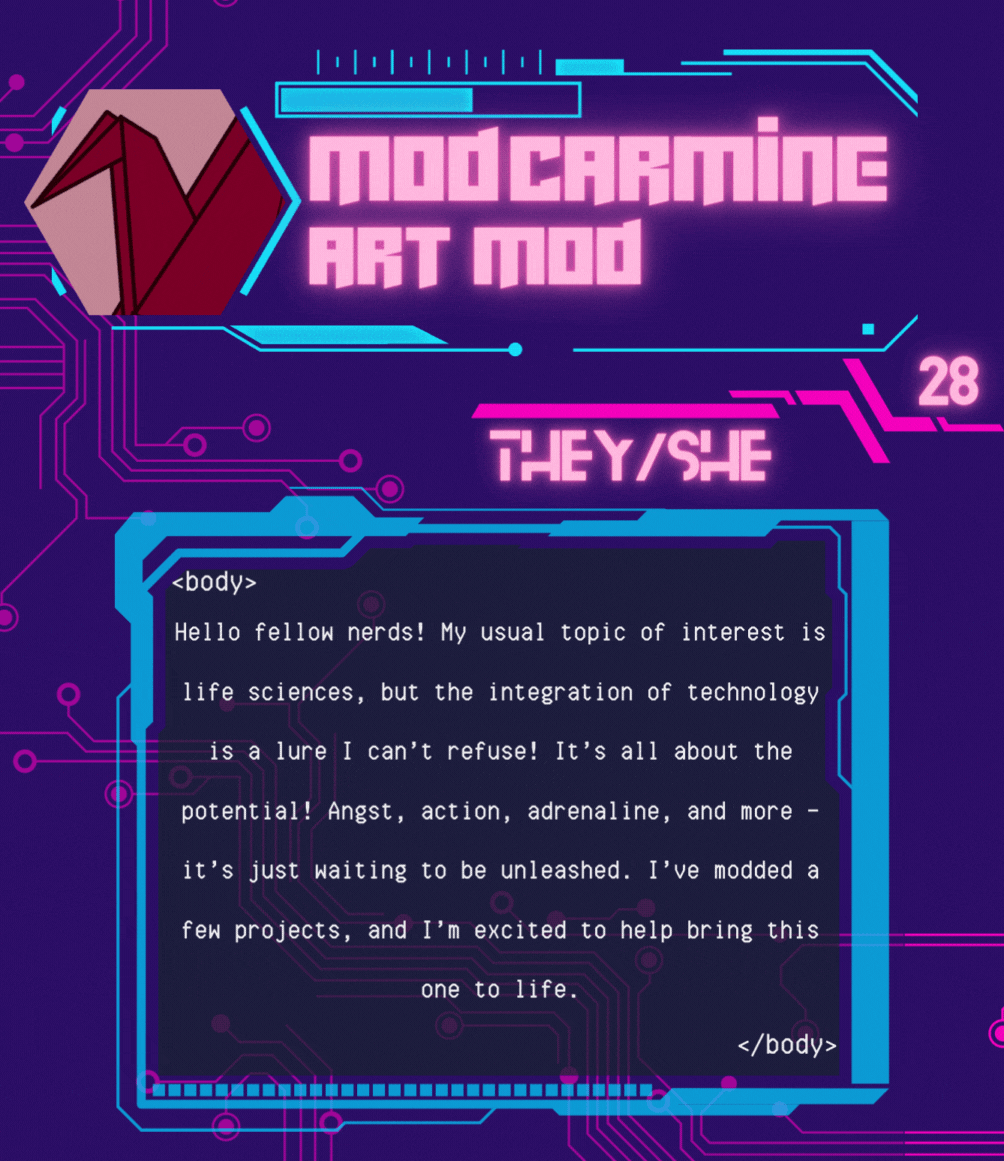 ---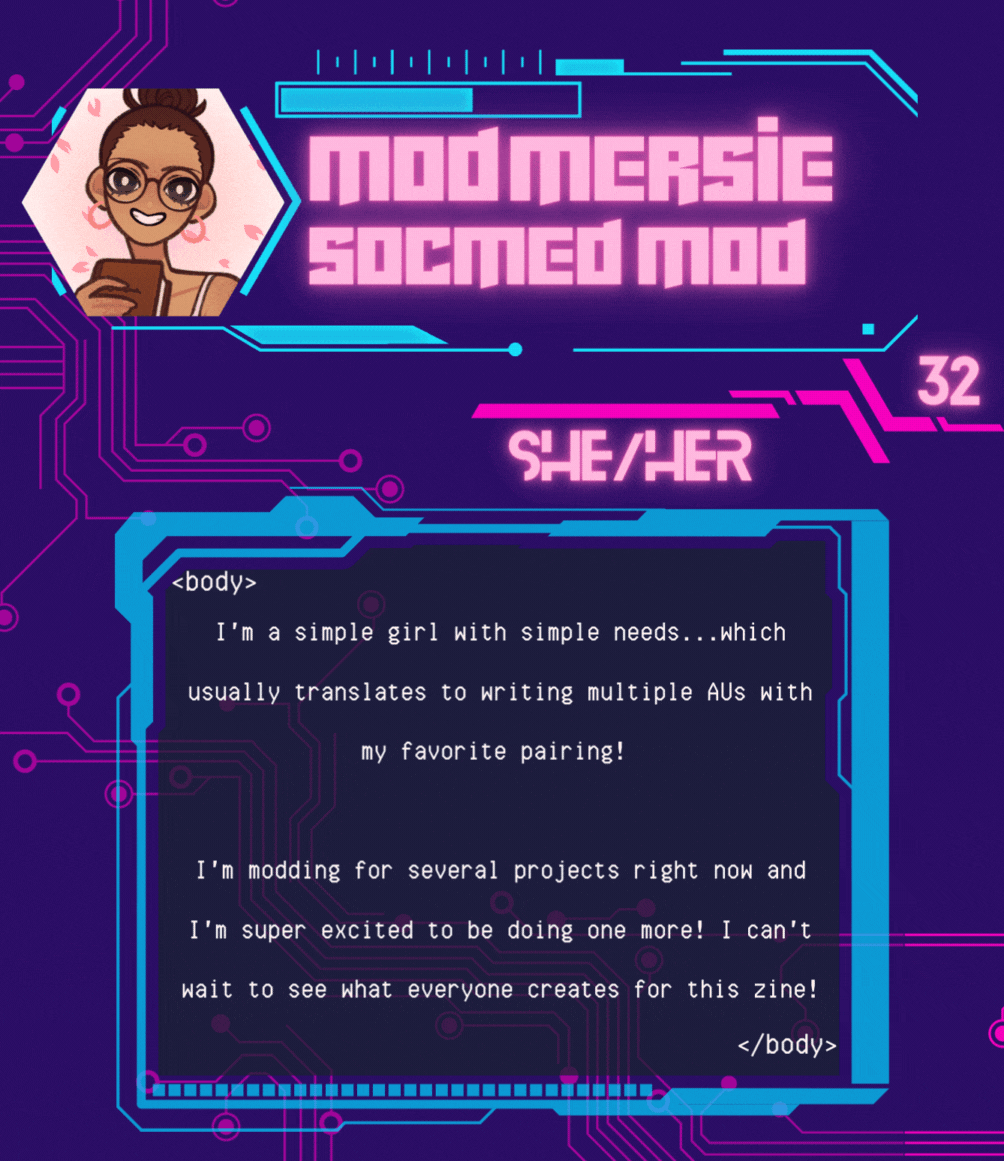 ---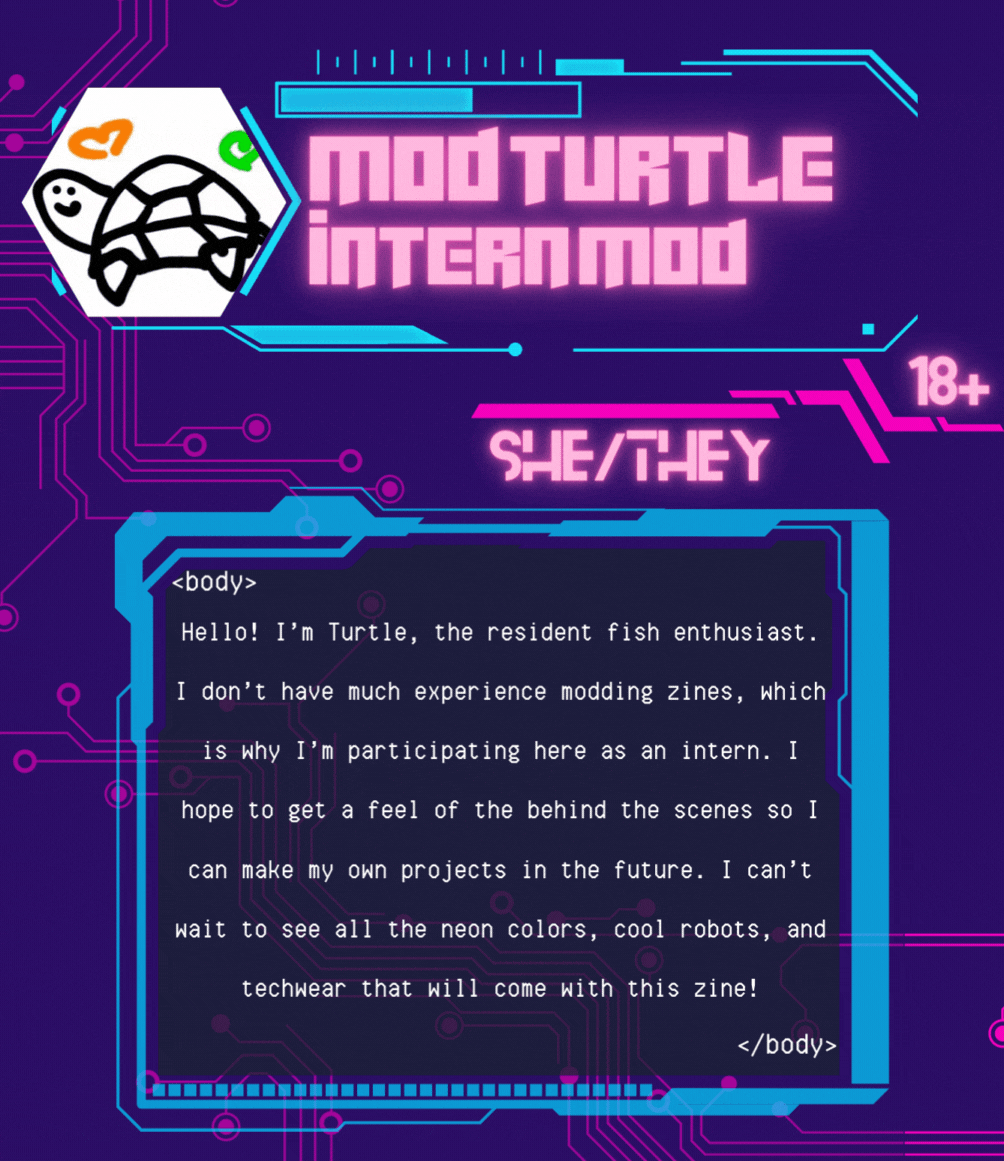 ---
Our tentative schedule is finally launched! Please note that all dates may change as the project progress!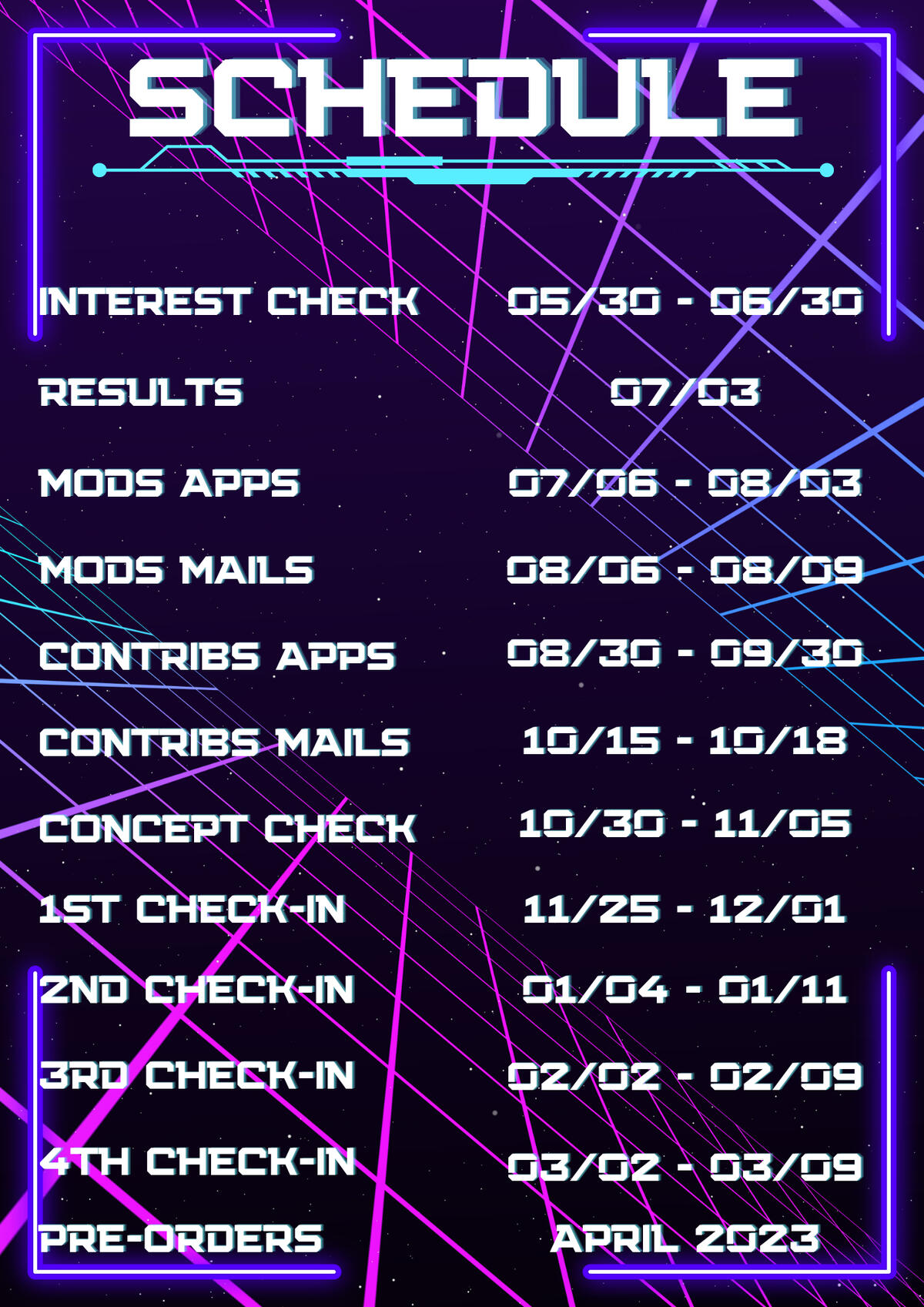 ⊶ What is a zine? ⊷
fan·zine
/ˈfanˌzēn/
noun
a magazine, usually produced by amateurs, for fans of a particular performer, group, or form of entertainment.
"a football fanzine"
A zine, or fanzine, is a non-official self-published media publication containing fanart, fanfiction, or original articles from a group of participants. Zines are produced by enthusiastic fans who want to share their love of a particular piece of medium with other fans. The original creator of My Hero Academia and all companies owning copyright are not involved in any way, so the project's scale is kept small and has a limited run as to not be considered mass-producing. Nothing trademarked will be used.
More on Wiki⋈⊶ Why are you not accepting minors in the zine? ⊷For legal and safety reasons. As this fanzine is rated 18+, we can not, in any good conscience, allow minors to enter any NSFW space. Both for the minors and the adults safety.
We hope that you can understand our decision.⋈⊶ How do you join a zine as a contributor? ⊷
During the contributor apps period, applicants sent samples showcasing their abilities and skills. Emails are sent informing the selection results to those who applied.
All mods reviewed applications based on criteria such as art style and anatomy, technicalities in coloring and proficiency in backgrounds. For writers, among the criteria are pacing, imagery, story-weaving and characterizations. We have a beta mod that will be able to help with grammar and spelling. Experience can be taken in consideration, but it's in terms of a creator's career; no prior zine participation or numbered following required. Everyone had an equal chance of being accepted.⋈⊶ What will be found in the zine? ⊷
The theme is Cyberpunk, which is extremely large and full of possibilities! Each contribution will depict a piece showing a world where technology is way more advanced, a dystopian world taking place in an alternative future. It could be based on that decade's movies, posters, music, fashion, hairstyles, etc.⋈⊶ Are portrayal of genderbending/cisswapping okay for this zine? ⊷While genderbending shouldn't be an issue with other characters, if a character is known to be transgender, or non gender conforming, we don't think it would be fair to show them as the opposite gender.
Ex: Magne being a trans woman in the manga/anime, cisswapping her as a man wouldn't feel right.
If there is any confusion about these terms or this rule, the team is open to providing clarification and would certainly welcome any further information. It goes without saying that headcanon of any character being trans is accepted.⋈⊶ Will contributors share teasers outside the Discord Server? ⊷
The Mod Team ask contributors to not share teasers of their work outside the Discord Server until we give the green light to post cropped previews and excerpts during pre-order period. When all pre-order have been sent out, the full piece can be shown.⋈⊶ Can a contributor sell artwork created for the zine? ⊷Until the project is wrapped up and announced completely over, we demand for contributors not to reveal their full piece or sell it. After all customers received their copies and the Discord server is shut down, all rights remains with artists and authors, so they may do as they please with their creations.
---
Requirements
- All Participants -
- A discord account is required. Once accepted in the zine, you will be invited to a server, where all the moderators and contributors can discuss the zine and what content you will be creating. If you do not have a discord account, you will be expected to create one for the zine. We wish to be able to communicate as easily and efficiently as possible.
- Regarding the applications -
- Follow all directions within the application. If anything is confusing, please feel free to message us. Applications that do not follow directions may be instantly rejected- Makes sure all your links are accessible. If the moderators are not able to access your links, we will, unfortunately, be unable to evaluate your application.- Please, use the tags warning in the appropriate section of the application form, especially if they contain NSFW/Dead Dove content.
---
- Artists -
- Artists can send up to three samples, with the artworks they think showcase their art style the best. We strongly advise applying with complete pieces, as it will help us see your full potential, as wips and sketches might not properly show your full potential.We require that:- At least one of the presented pieces shows one, or multiple, character(s) from My Hero Academia (pieces in the portfolio will not count)- At least one piece should be a complete one (full colors with a background)- If you are submitting traditional artwork, please make sure at least one is fully colors
-
- WRITERS -
- Writers can send up to three samples, with the fics they think showcase their storytelling the best. We ask that each of the samples be kept between 1000-5000 in word count, it can be a one-shot or the chapter of a fic (ongoing and/or complete). We strongly advise you to not use Twitter's threads, and if you do, we will ask that you please send it in a Google doc format.We require that:- At least one of the presented pieces shows at least one character(s) from My Hero Academia- All samples must be given as links (AO3, Google Docs)
-
- MERCH-ARTISTS -
- Merch Artists can send up to three samples, with the artwork they think best showcases their art style.
We strongly advise applying with complete pieces, as it will help us see your full potential, as wips and sketches might not properly show your full potential.We require that:- At least one of the presented pieces shows at least one character(s) from My Hero Academia- At least one piece should be a complete one
-
---